German Porcelain; also known as "fine china" after the country it first came from.
The Chinese have been producing fine decorated porcelain for hundreds of years and it first came to Europe in the seventeenth century via the trade route of the Dutch East India Company. The Chinese manufacturers wouldn't pass on their recipe for the production of porcelain to the west and so it became very coveted, representing great wealth and refinement in Europe. However in the 18th century the secret of "white gold" production was mastered in Europe. " White Gold" because of the wealth it brought to those areas.
In the German state of Saxony Johann Botteger, an alchemist, experimented with the formula and with help of Dutch tile makers experienced in firing and painting, the first porcelain was made.
At first production was restricted to factories set up by the German aristocracy as the capital needed for the initial technology was so enormous. Every ruling prince wanted to produce his own porcelain.
By the middle of the nineteenth century it is said there were 22 porcelain factories in Germany.
1710 Botteger moved to Albrechtsburg castle in Meissen, Saxony, and production officially started.
1747 Maximilian III Elector of Bavaria started a porcelain factory in Munich to supply the Bavarian court. By 1761 the factory was well established at the Nmphenburg Palace.
  1814 Carolus Magnus Hutshenreuther founded a factory in Hohenburg and then in 1857 in Selb.  
1872 Carl Thieme starts another factory in Saxony, Dresden Porcelain.
1889 Rosenthal opens its first factory in Selb, close to the Czech border.
The two world wars and Communism had a dramatic effect on the factories. Raw materials and trade were disrupted, the Jewish owned businesses were taken over and after 1945 Eastern Germany came under Russian control. All production in Saxony became destined for the Eastern Block market until about the late fifties when there was an urgent need for foreign currency.
Rosenthal was returned to family ownership in 1950, and following the fall of the iron curtain in 1992 the factories became free market enterprises and flourish today.
Only Nymphenburg has consistently produced the very high quality porcelain pieces in Germany from 1761 to the present day for the open market.


Manufacture
Nymphenburg
For 275 years the Porcelain Manufacturer Nymphenburg has been producing figures and objects of the finest quality in just one location, the Nymphenburg Palace. No other factory in the World still manufactures all its products entirely by hand; no automated process is used, therefore enabling it to produce unequalled delicacy and quality pieces. Power is still provided by the small river that runs through the estate, driving the belts and pulleys that run throughout the factory powering the potters' wheels and mixing vats.
Porcelain Paste
The raw materials of kaolin, feldspar and quartz takes 2days to mix to the right consistency perfected by an age old recipe, it is not bought in as a semi ready mix as in commercial enterprises. The production process is complicated and time consuming and an art in itself. Once the mix has been refined it is pressed into slabs and stored until ready for processing, this takes several years. When ready it is sent to the potters shops.
Turning and modelling
All plates, bowls and vases are hand made on a potter's wheel and stamped with the Nymphenburg shield and potters initials.
All other products are cast in plaster moulds. There are thousands of different moulds kept in the moulding shop; each one is destroyed after just fifteen casts. Slip is poured into the mould and left to set. Each figure can be made of many different pieces from numerous moulds.
Once they are dried the potter assembles the pieces by hand using slip and a scalpel. Finally the details are added, any leaves and flowers, hands and facial expressions are added by the artist using his or her scalpel.
Firing
Each piece is fired at least twice if not three, four or five times at different temperatures. Following an initial low temperature firing a thin glaze is added and then fired again before it can go for decoration.
Decoration
Underglaze painting is largely used on small figurines, it is best done to emphasise fur and feathers or a finely dressed figure. Finely graded shades of colour are brought out through various types of glaze.
On glazed pieces, artists work without templates and an intricate item can take up to 3 weeks to paint. Painting skills are passed on through word of mouth and training an apprentice may take up to 15 years. Powder paints from a library of over 15,000 can be manufactured in the laboratory at Nymphenburg and these are then mixed with turpentine, rose and lavender oils before being applied. Paints are fused with the glaze during firing, changing finished colour significantly.
Gilding
Finishing can be with either platinum or 24ct gold. After the final firing the gilded areas are dull and need buffing. The final product is pure white translucent porcelain which contrasts with bright paints and polished gilding.
Hutschenreuther
The original Hutschenreuther porcelain company was opened in 1814 in the small town of Hohenburg in Bavaria. Carolus Magnus Hutschenreuther, 1794 -1845, had been working for the Wallendorf factory and wanted to open the first privately owned porcelain factory in Germany. His aim was to manufacture porcelain second to none and to enhance the quality of his product, Carolus solicited artists, craftsmen, and sculptors from across the European continent. 
Primarily focusing on quality and design, Hutschenreuther grew into a competitive firm that produced dinnerware services ideal for fine dining.
Under the direction of his son Lorenz, a second factory was established in 1857 in the neighbouring town of Selb. Lorenz marketed his dinnerware services aggressively and the Hutschenreuther in Selb became the more notable name as a result of its business savvy managers. Lorenz had not partnered with his father and the two companies would remain fully independent and in open competition with each other for more than a century.
In 1917, after acquiring the Paul Muller company, Hutschenreuther of Selb began producing figurines. In 1922 the sculptor Carl Werner was given control of the art department in Selb and working alongside Karl Tutter, they were to produce some of the most desirable figurines to come out of Germany during the twentieth century.
By 1969, the company had expanded to include several more factories. During that same year, the assets of the Carolus Magnus Hutschenreuther's 1814 company were purchased by Hutschenreuther of Selb. After more than a century of competition, the two companies became one. The newly united company continued producing porcelain figurines and fine bone china under a new lion trademark.
Since 2000 the Hutschenreuther company became a part of the Rosenthal group.
Rosenthal
If Meissen and Nymphenburg were the factories born of the aristocracy, Rosenthal came from the industrial revolution and that born to the middle classes. A more affluent Germany emerged with improved living conditions and a disposable income appeared. Rosenthal spotted the unfilled market and started mass scale production of porcelain aimed at the newly emerging market. In only two generations the family firm expanded into a world class player. With a vision for modern art, freelance artists were employed and the interior decoration business began. In 1910 the art department at selb was founded employing designers such as Himmelstoss, Karner, Oppel, Holzer-Defanti, Liebermann, Cassmann and many others. The same year the factory won the gold medal for it's quality porcelain at the world fair Paris. Over the decades other factories were acquired in ceramics, glass, utensils and furniture. It's top quality porcelain is still admired today for the way they captured their subjects movement, form and liveliness.
Manufacture
The Rosenthal factories produced everything from tableware to bed warmers and cigarette lighters, to figurines. The art Nouveau period was a very decadent era and the start of modern production in Germany. The industrial revolution brought in labour saving machinery, electric Kilns and methods of transfer decoration.
Figurines were especially suited to porcelain, especially animals, as their features could be captured well and thus thousands were made by all the factories. Many of the artists who had worked for Meissen and Nymphenburg also produced some fantastic models for Rosenthal and in the 30's Walt Disney commissioned Rosenthal to produce a series of his characters. Many more commissions followed from fashion designers wishing to break into the home market, Fornasetti, Giovani Versace and Karl Lagerfeld had  successful ranges of porcelain. 
Basemarks and Dating
Meissen
The secret of porcelain manufacture was soon discovered by others. By 1760 about thirty porcelain factories had established themselves in Europe and thus it made it necessary for a marking system to be introduced to identify the original Saxon products. Several means of identifying Meissen were devised in the early years, mainly with a series of letters KPM; MPM; KPF, all painted on top of the glaze. It wasn't until underglaze painting had been perfected at the factory that a forgery proof way of marking was found. Two crossed swords in cobalt blue under the glaze became the preferred mark of Meissen from 1731 and are still hand painted on today. A series of asterisks, dots and other symbols have been added to aid in the dating of wares.
Some common examples of marks used
1720       1722      1763    1744   1815  1924    1934    1972    2008
Nymphenburg
Over the years the trademark of the porcelain manufactory has taken many guises but one thing has remained consistent, the impressed shield. All porcelain at the factory has been impressed with the shield from the Wittlesbach family coat of arms. It is easily recognisable by two concave curves on either side ending in a point at the base. The field of the shield is in filled with a diamond pattern. On figurines the model number and either I / II, a size code, has also been impressed into the unfired clay. Sometimes the artists initials are also carved into the clay.
1. 1754 Impressed shield mark used on all products. 1a. 1894 blue underglaze mark. 1b. 1895 blue underglaze mark. 2. 1910 green underglaze. 3. 1975 green shield mark. 4. 1997 green shield mark. 5. 2007 green shield mark.
Hutschenreuther 
Lorenz Hutschenreuter Selb has an underglaze green printed trademark of a lion and the initials LHS.
                             1857-1920s                                                 1925-1939                                                1939-1964                                           1946-1948                                                                         
Rosenthal
Since 1889 the Rosenthal trademark has always been printed under the glaze and always in green. The Selb factory has an elaborate Rosenthal signature with Selb and variations of lettering and dots to date the pieces. The branch factory Banhof-Selb has two crossed roses with a crown above and variations of lettering and dots to date the pieces. In 1975 the factory rereleased some of its more popular designs as the Classic Rose Collection which is also printed in green on the base of these figures.
       1912-14
     1914-15 
     1919-35
      1922
      1944
      1947
    1950s 
         1960s
Influential Sculptors
Franz Anton Bustelli 1723- 1763
Little is known of his birth or education but on 3rd November 1754 Bustelli was employed by Nymphenburg as a young artist. He became one of the most influential artists of the Rococo period. Within a period of nine years he had produced around 150 porcelain figures at the factory including the renowned collection of 16 Commedia Dell' Arte figures which launched Nymphenburg on to the international stage and are still in great demand today, commanding a high price.
Joseph Ponhauser 1750s
In 1751 a group of Viennese artisans took over the factory at Nymphenburg. Ponhauser, a Viennese master modeller, first produced a large table ornament of a fantasy garden which caught the imagination of the public and thus table ornaments of figurines became fashionable. He designed many more figures portraying the elegance of the Rococo period.

Joseph Wackerle 1880- 1959
Born in Bavaria, he was educated at the Munich school of arts and studied the classics in Italy. He became one of the most important sculptors of the twentieth century, working intermittently for Nymphenburg whilst at the arts and crafts school in Berlin and later, a professor of art at the Munich academy.
Johanna Kunzli 1920 –
Studied under Josef Wackerle at the Munich School of Arts. A very talented artist she produced several figures for the Nymphenburg factory all in her very own identifiable style.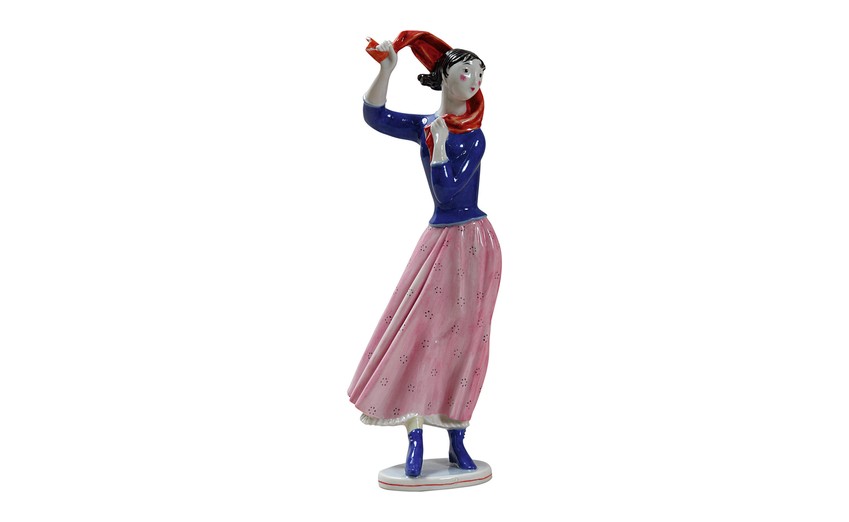 Konrad Schmidt 1904-1931
Acclaimed sculptor of animals, created 9 terriers for Nymphenburg.
Willy Zugel 1876-1950
The son of renowned animal painter Heinrich Zugel. He worked for Meissen, Nymphenburg and Rosenthal.
August Gorhing 1891-1965
A painter and student of Heinrich Zugel he worked for Nymphenburg producing beautiful birds and animals.
Theodor Karner 1884-1966
Probably the best artist of the twentieth century working in the German porcelain factories of Meissen, Nymphenburg, Allach, Eschenbach and Rosenthal.
Luise Terletzki-Scherf 1902-1966
Brought a modern approach to design at Nymphenburg with her unmistakable models.
Claire Weiss-Herczeg (Klára Weisz)
Klára Weisz was born in Budapest on October 13 1906, a renowned sculptress she was better known as Claire Weiss or Claire Weiss-Herczeg. Her sculptures are found in public places and museums throughout Hungary and other countries. She designed hundreds of porcelain figurines for a number of well-known houses, including Rosenthal, Bing & Grøndahl and Goldscheider.
Claire was awarded the Munkácsy Prize in 1960, and the Hungarian Érdemrend kiskeresztje in 1996. She died in Budapest on August 6, 1997, at the age of 90.
Karl Tutter 1883 -1969
One of the most famous porcelain modellers of the twentieth century. He created a large number of figures for the brand Hutschenreuther, gaining him worldwide acclaim.
Carl Werner 1895
 In1922 Werner took charge of the Hutschenreuther factory at Selb and along with a handful of artists gained worldwide acclaim for their many art deco figures.
Twentieth century designers and modellers at Rosenthal:
Berthold Boess 1913-34/ A. Caasmann 1912-13/ Fritz Diller 1913-27 Max Fritz 1930s also Meissen and Dresden/ Fritz Heindreich 1919-1950s/ Karl Himmelstoss 1912 also free colleague of the Berlin art school/ Otto Koch 1920-66/ F. Liebermann1901 free colleague of the Berlin art school/ Hugo Meisel 1930s free colleague of Volkstedt Gustav Oppel 1924-36 free colleague of Volkstedt/ Raymond Peynet 1955-65 a Parisian illustrator.
 Visit the porcelain factories in Germany
https://www.rosenthal.co.uk/en/cms/company/the-rosenthal-company/rosenthal_museum/